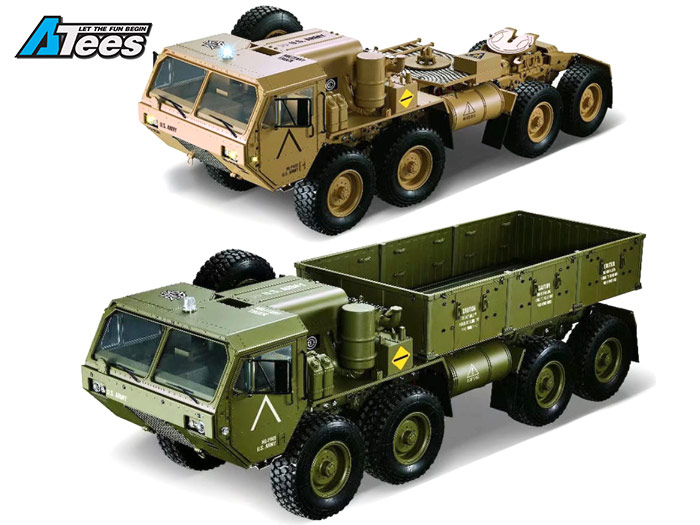 All-New 1/12 8X8 M977 And M983 U.S. Military Trucks
The M977 and M983 heavy expanded mobility tacical truck (U.S. Military) series of vehicles consist of a number of models all built on similar chassis and equipped to perform different missions.
These 8x8 off-road capable all-weather trucks are used by the U.S. military to perform line and local haul, unit resupply, and related missions in a tactical environment.
Both are pre-built and comes with a 2.4GHz radio system. You must add your own electronics .
Features:
Central transmission secondary mechanical gear position is adjustable (upgradable remote adjustment)
The chassis of the vehicle is made of zinc alloy 
The front and rear axles adopt a conical gear to straight tooth high-load reduction transmission structure
Spring steel plate shock absorber + telescopic double shock absorption
Variable stroke ball type universal joint shaft
Front and rear independent link type bridge system
8 rounds full-time drive, large traction can pull all kinds of equipment
Steering gear control disc can be freely disassembled
1/12 full scale RC Car model
The first 4 wheels adopt the wire rope pulling structure to realize the four-wheel synchronous steering
1/12 Scale Crawler with high strength ABS plastic body
Specifications:
Size: 739.5mm × 218.5mm × 242.5mm
Wheelbase: (128mm) × 258mm × (128mm)
Wheel Margin: 218.5mm Wheel Diameter: R111mm
ESC: 320A ESC
Motor: 550 Motor
Servo: 2 Copper Gear 9KG Digtial Servo
Transmitter: Frequency: 2.4G Remote Distance:≥ 100m
Material: Hardware, Zinc, Alloy, Electronic and Plastic
Includes:
RC Car (do not include the car battery)
2.4GHz Radio Transmitter and Receiver
ESC
550 Motor
Servo
Manual
Sticker 
Hardware & tools
ByRob C.
Share:http://asiate.es/read?l=SE35P_R3RUB